"Meeting with the sun"
"The proof of the sun is the sun itself,
if you are looking for a proof
then don't turn your face away from the sun"
26 November, 1244, an ordinary autumn day. But the farther this day is passing away into the darkness of centuries, the more extraordinary seem the sequences of the meeting of Shams and Rumi. Two people, who met in Konya more than 700 years ago, did not only open themselves in each other, but opened a new page in Islamic mysticism.
On that notable day Rumi was invited again to the dispute in the medrese Pembefurushan. He was riding by on his pacing mule surrounded with his murids and disciples, accompanying him on foot from both sides. Some agitation had passed through the crowd and all heads turned to that direction. - "Mevlana Jalal al-Din is riding!" - this name Shams heard first in Damascus ten years ago. Afterwards it reached his ears more and more often, until the moment it called him to make a journey.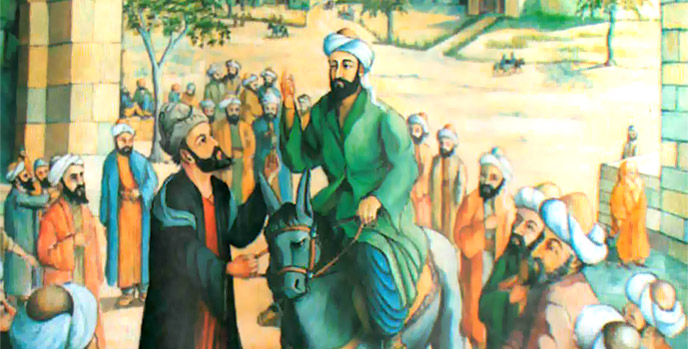 Shams jumped out in front of him and grasped the mule's bridle. It stopped all of a sudden and Jalal al-Din glanced up. He saw withy hands bare below the elbows, having grasped his pacer, thin beard and eyes of a stranger, drilling like an awl. Keeping hold the bridle tight and an eye on Jalal al-Din, the stranger asked:
'Oh, the great Imam of Islam! Tell me who is greater, Prophet Muhammad or Bayazid of Bastam?' Rumi replied, «What kind of question is this? Of course, Muhammad is greater than Bayazid". Shams continued, "Muhammad said 'Oh my Lord I fail to understand You the way you really deserve, but Bayazid said 'How great is my being, and I am the king of kings. I am free of all defects and there is nothing left in my robe other than God'. What do you think about this?" Rumi said, "Well the thirst of Bayazid was filled with one drop, and his jar of wisdom was filled with that; and the light he received was just in accordance with the capacity of his window of divine light while Muhammad's thirst was huge and at every stage he wanted more and more love and knowledge of God according to the Quranic verse 'Didn't We expand your chest?' and 'Was not the earth of God spacious enough to escape evil?'
Having heard the reply Shamseddin shouted and fell in a dead faint on the earth. At least this is the way this scene is described in ancient chronicles from the words of witnesses.
After this talk Rumi and Shams went to the house of the goldsmith Selah al-Din Zerkub, where they stayed for some months talking and discussing divine matters; and exchanging thousands of questions and answers. Nobody can say what were they talking about in their privacy. As we see the son of the poet did not know this either. But for longer than one year by the order of Rumi all the stories and sayings, every word of Shamseddin said in public was recorded by "writers of mysteries". These records then made the book of "Maqalat" ("Discourses"), which reached our days in written. The book was saved in draft versions; written records have a lot of differences. And indeed the words and images of Shamseddin are quite vague, allegorical.
He himself recognised that. 'An imitator is not able either reproduce, or follow my words, - he used to say, - they are obscure and sofisticated. You can repeat them hundreds of times and each time you will find a new meaning in them. Still the essence remains virgin pure, understood by nobody'.
Когда минули эти месяцы, всем, кто знал Джалал ад-Дина, показалось, что он умер, а в его облике родился другой человек.
'Suddenly appeared Shamseddin, - Rumi's son Sultan Veled was remembering, - 'and joined with him. And in shining of his light the shadow of Mevlana disappeared... When he saw the face of Shams, he saw clearly mysteries, they became as clear as day for him. He saw the unseen by anybody, he heard the unheard by anybody. And everything became one for him: both heavenly and dow-to-earth. He called Shams upon him and said, 'Listen to your dervish, my padishah. My house is too miserable to honour you, but I have loved you with faithful love. Everything that your salve possesses, what his hands can obtain, belongs to his master. From now this is your house!' ...Mevlana was charmed with his face, his intractable purity, his speech, full of mysteries like the sea full of pearls, his word, inspiring life into a free person... He never went anywhere without him. If he did not see his face, he lost the light of his eyes. He did not part with him night and day. For him the separation with Shams became unbearable. As if he became a fish living in his sea. Shamseddin called him to the world, which neither Turkish, nor Arab had ever dreamt. Every day he gave him lessons and made new knowledge declared. Mevlana was full of mystic knowledge already. But things that Shams revealed to him had a different nature, was an absolutelt new knowledge... '
Rumi's son Veled continues to throw light upon their relationship. He says that their meeting was like Khizr and Moses. Prophet Moses was a knowledgeable man but he was told by God to meet with a person (the Prophet Khizr) whose knowledge was endless for he received it directly from God. Rumi received this kind of knowledge from Shams. "Shams appeared and we met in my heart and due to the wine of (divine) love, these walls and doors have gone mad"
Jalal al-Din rejected everything. Fetvas and disputes were abandonned. Now prayers and sermons changed with poetry and music, притеснения плоти - with songs and dancing. Rumi could start dancing and reading poetry, which was streaming out of him, at any moment, even most unsuitable, unexpectadly for himself.
Rumi could not become Rumi without Shams, as he says:
"Nothing can itself be anything,
No iron can be a sword on its own,
Neither could Rumi's spiritual Masnevi be born
Without his being a slave of Shams-i Tabrezi"
-------------------------------------------------------------------------------------------------------------------
Sources:
* Rady Fish "Jala al-Din Rumi", Moscow , 1987, "Nauka"
* Teachings of Shams i-Tabrezi; Erkan Turkmen, 2004, Turkey